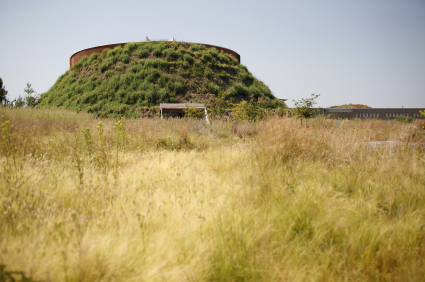 Tumulus at Maropeng, Cradle of Humankind
N
ext time when you are heading to plan your visit to South Africa, don't just limit your imagination to Kruger Park, Cape Town, Winelands and maybe the Garden Route. Step into an ancient underground world in the huge, deep, pre-historic scary caves of South Africa and witness the unseen beauty of nature and history.
Some of the caves in South Africa have huge networks of tunnels that you can spend hours, or even days, exploring!

UNESCO World Heritage Site called The Cradle of Human Kind, or the massive Cango Caves, Echo Caves and Sudwala Caves are some of the thrilling caves that were created millions of years ago are just hard to miss.
The Cradle of Human Kind World Heritage Site is actually much more than just the caves. They boast about having a total of 398 attractions at the site! The caves here are not just the plain caves. As the name implies, this is the area where human kind is known to have its oldest roots, and they have found 1.5 million years old fossils of direct ancestors to modern humans.
Cango Caves
Cango Caves
The Cango Caves in South Africa are among the most popular caves and are conveniently located close to the Garden Route and attract a lot of tourists from all over the world. As you walk through the Cango Caves, they will surely give you the feeling of exploring a different world. With spectacular limestone formations, they are definitely worth the visit.
The Sudwala Caves are visited less frequently, but definitely also worth the trip if you're in the Mpumalanga region. As you're walking up to the caves, you can barely spot the little opening, but as soon as you enter them you will realize that this is also a huge network of tunnels.
The Sudwala Caves are the oldest known caves in the world, and as such, are a `must-see' on the itinerary of any visitor to Mpumalanga. These incredible caverns lie in the Drakensberg escarpment which separates the Highveld from the lowlands of Mpumalanga. The caves are situated in Pre-cumbrian dolomite rocks of the Malmani Group, formed over a period of some 3000 million years.
Echo Caves
This underground wonderland located in the Mpumalanga region, west of the Kruger Park was discovered by a farmer who was looking for his cattle that continued to mysteriously disappear. They are more than 40 kilometers long and the name Echo was given to the cave, as a certain stalactite formation produces a distinctive echoing sound when tapped on. This echo can still be heard on the outside of the cave today. After exploring the cave it was soon realized that this dark underworld carried with it the most beautiful gems of nature.